AXE GAMES
AXE THROWING IN CALGARY
A FULLY LICENSED VENUE
FAMILY FRIENDLY (RECOMMENDED AGE: 10+)
PRIVATE LANE BOOKINGS:
AXE THROWING EVENTS UP TO 40 PLAYERS
BOOK YOUR AXE THROWING EVENT TODAY
AXE THROWING OPTIONS & PRICING
SUNDAY SPECIAL: $5 Off Axe Throwing Every Sunday This Summer!
1 HOUR THROWING SESSION
Come & throw axes for an hour!
1+ players
Self-scoring game (we provide the scoresheet)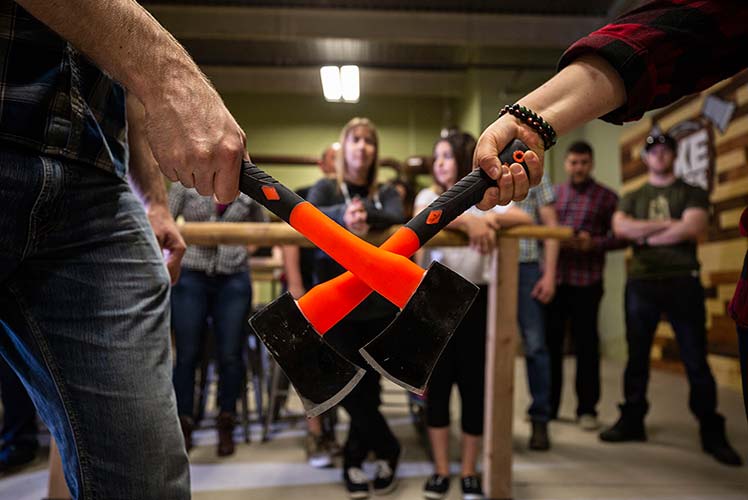 If it is your first time playing, an Axe Games coach will cover rules, scoring & show you the techniques on how to throw an axe.

We have 1 hour axe throwing sessions starting every half hour.

If you show up late it will result in reduced play time or possibly rescheduling your booking to another time.

Please note: during busier periods groups with less than 6 players may be paired together on an axe lane (2 targets). If you would like to be guaranteed a private axe throwing lane a booking for at least 6 players is required.

Book during our regular hours of operation

If you would like to add an additional hour of axe throwing – the 2nd hour will be discounted to $15/pp – subject to availability.
2 HOUR TOURNAMENT
2 hours of axe throwing
8+ players
Scoring & tournament facilitated by our staff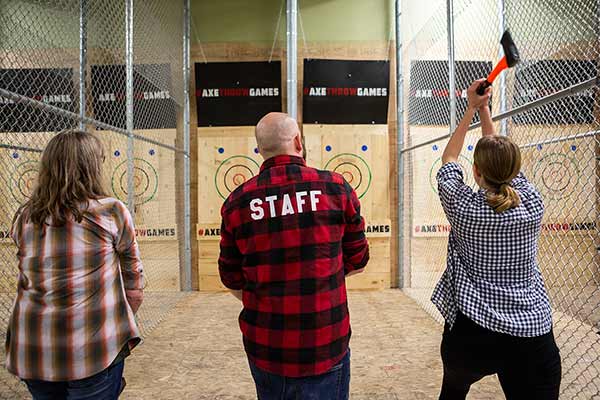 Organized axe throwing tournament for your group.

A dedicated Axe Games coach will be provided for your group for the entirety of the booking and will score, organize the games, & tournament bracket.

Typical tournament structure (2 hours total): 30 minutes of training & practice, 45 minutes of seeding scoring round & 45 minutes of playoffs

If you show up late it will result in reduced play time or possibly rescheduling your booking to another time.

With all 2 hour tournament bookings your group will have 2 private axe throwing lanes (4 targets) for your group for the entirety of the event.

Book any day of the week

If you have more than 20 players take a look at our full facility rental or give us a call at 403-454-6878!
AXE GAMES CALGARY INFORMATION
A FULLY LICENSED CALGARY AXE THROWING FACILITY
At Axe Games Calgary, we aim to revive the heritage sport of axe throwing and keep the tradition going. We are dedicated to providing a fun, safe and friendly space for people to get out, be active, socialize, learn a new skill and have a great time!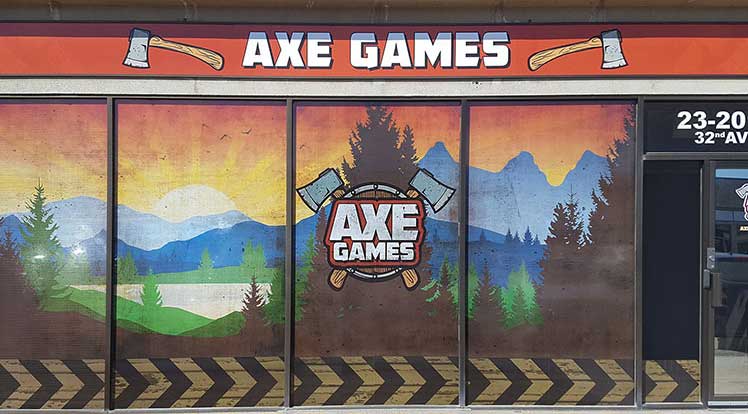 EVENTS OF UP TO 40 PEOPLE
We have a total of 8 axe throwing lanes that can accommodate groups of up to 40 people! Our axe throwing venue is great for work functions, birthday parties, bachelor / bachelorette parties, or just a fun night out with friends!
AXE THROWING FROM ONLY: $19.95/pp!
At Axe Games we offer 2 affordable axe throwing bookings: our self-scoring 1 hour axe throwing session ($19.95/person) or our 2 hour organized axe throwing tournament option ($34.95/person).
A FAMILY FRIENDLY VENUE
Axe Games Calgary is a family friendly facility, we recommend an age of 10 & up to participate in axe throwing.
LICENSED LOUNGE (Food + Drink)
We have food and drinks available for purchase during your axe throwing event at our fully licensed lounge. View Menu
PARTNER ARCHERY FACILITY
Axe Games is located beside our partner facility Archery Games. Want to play both archery arena tag and axe throwing in the same day? Give us a call: 403-454-6878 and ask about our archery & axe throwing same day discount!
THE WORD AROUND TOWN
AXE GAMES REVIEWS
Went to check out axe games with my softball team and it was awesome! We played for 2 hours and got plenty of axe throws. The food and drinks were great and reasonably priced. Our axe coach Kyle rocked. I was the tournament champ in the playoffs! A++ highly recommended
Jason (Google Reviews)
Good snacks and drinks, intimate location, fun and surprisingly tiring! Cool to throw the big axe at the end… little terrifying but worth it!
Catherine (Tripadvisor)
Axe Games was awesome!! The staff were super friendly and the food was great. I will definitely be going back.
Kevin (Google Reviews)