Axe Games Calgary
6 Different Axe Throwing Games
Axe Throwing for any skill level
Our unique digital display allows for a variety of different axe throwing games to be played: from our standard target, to tic-tac-toe, to throwing axes at zombies.
1 Hour Axe Throwing: $30 / person
2 Hours Axe Throwing: $45 / person
Book Axe Throwing
Axe Throwing Game Modes
With our digital axe throwing target system we are pleased to offer 6 different game modes for your axe throwing experience including: Tic-Tac-Toe, Connect 4, Zombies, & Duck Hunter, and of course, our standard axe throwing target.
AXE GAMES CALGARY INFORMATION
A FULLY LICENSED CALGARY AXE THROWING FACILITY
At Axe Games Calgary, we aim to revive the heritage sport of axe throwing and keep the tradition going. We are dedicated to providing a fun, safe and friendly space for people to get out, be active, socialize, learn a new skill and have a great time!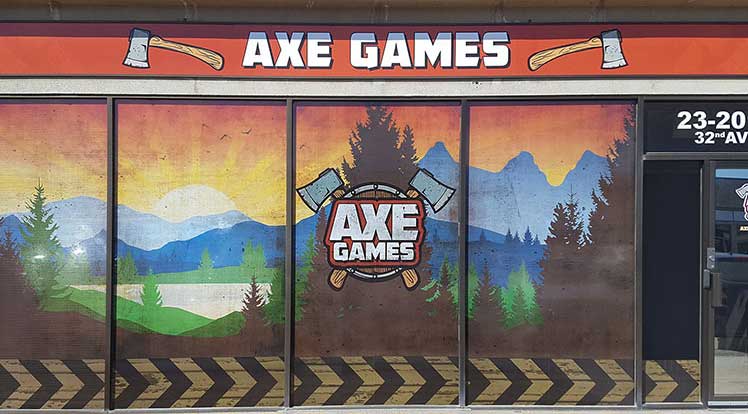 EVENTS OF UP TO 32 PEOPLE
We have a total of 8 axe throwing lanes that can accommodate groups of up to 32 people! Our axe throwing venue is great for work functions, birthday parties, bachelor / bachelorette parties, or just a fun night out with friends!
AXE THROWING FROM ONLY: $30/pp!
At Axe Games we offer 1 hour axe throwing from $30 per person and 2 hours of axe throwing from $45 per person.
A FAMILY FRIENDLY VENUE
Axe Games Calgary is a family friendly facility, we recommend an age of 10 & up to participate in axe throwing.
LICENSED LOUNGE (Food + Drink)
We have food and drinks available for purchase during your axe throwing event at our fully licensed lounge. View Menu