BACHELORETTE PARTIES CALGARY
Looking for bachelor and bachelorette party ideas in Calgary? We offer 2 event package options perfect for your celebration!
If you are engaged and getting hitched and looking for bachelor/bachelorette party ideas in Calgary – look no further! Celebrate your engagement party, bachelor party, bachelorette party, or jack and Jill bachelor/bachelorette combined party at Axe Games Calgary!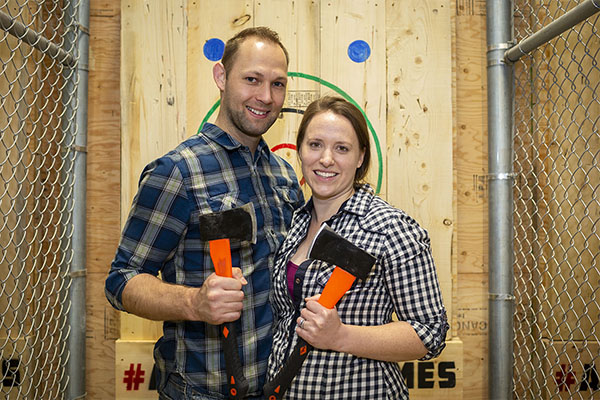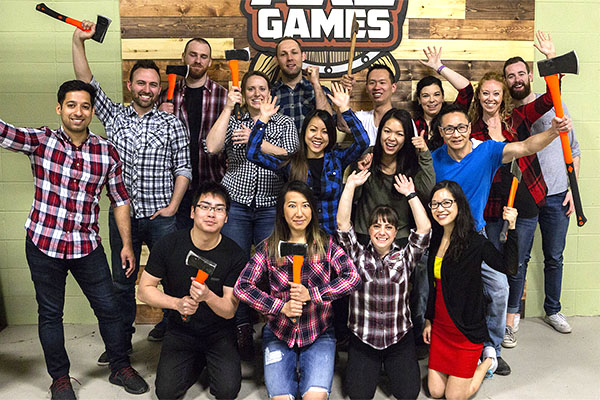 The Perfect Party Option
The traditional/common bachelor/bachelorette party is not for everyone, and the event options for brides and grooms are evolving to incorporate more interactive and exciting ways to kick things off before the big day!
SUPPORT LOCAL
Forget Vegas and support a local Calgary company. No expensive plane ride or passport needed to celebrate at Axe Games Calgary … assuming you live in Calgary that is. We are located in the NE by Barlow Trail and just off 32 Ave NE.
AFFORDABLE
Strip clubs, lavish spas and fancy golf retreats are not everyone's cup of tea, and they also don't fit everyone's budget! We have in-house food and drinks, and catering options perfect for any budget. Throw axes for as low as $22.48 per person depending on your group size.
TOGETHERNESS
Axe throwing involves the whole group in both participating and cheering. There are sometimes group members that hesitate, but rest assured it is a sport that everyone can do! Our Axe Games coaches are great at what they do, and they are happy to teach, motivate and guide you every step of the way no matter your age, size or athletic ability.
We take care of training and tips, organizing and running the games, and even set up a tournament at the end … for bragging rights of course! Just show up with a good attitude and leave the rest to us.
UNIQUE
Axe throwing for a bachelor/bachelorette party is a unique activity, and a memorable way to celebrate with friends and family. It's an effective way to bond your wedding party members and create lasting memories before the big day. There will be excitement and a ton of laughter, and you'll surely be surprised by how quickly each person finds their own throwing technique.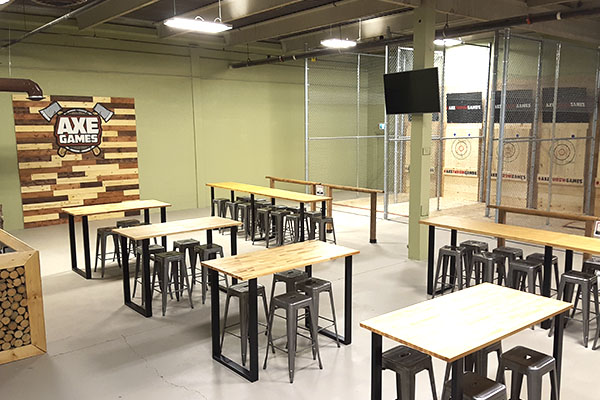 Axe Games Facility
The Axe Games facility can host axe throwing events for groups of up to 40 people. It's a large open space that your group is welcome to decorate to your taste.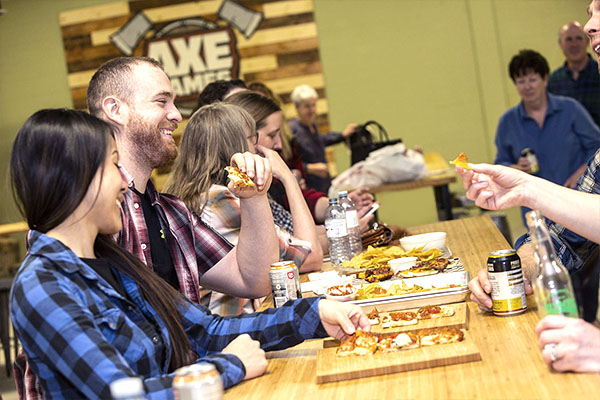 Food and Drink
We offer in-house food, non-alcoholic and alcoholic drinks, and for events like a bachelor/bachelorette party we also offer catering options with a bar setup.
Groups Big and Small
If your group is smaller than 8 people: Please check-out our online booking page to see our regular hours of operations and available times for our small group 1 hour bookings.
Book outside Regular Hours
Axe Games events packages are available outside of our regular hours of operation and any day of the week: A minimum of 8 players is required to book and we recommend contacting us at least a week in advance so that we are able to staff and accommodate your booking.
Please contact us by phone: 403-454-6878 or email: bookings@axegames.ca if you are looking to book for any of the event packages listed, or if you have any questions or special requests.