AXE GAMES CALGARY TEAM BUILDING + EVENT PACKAGES
The Axe Games facility can host axe throwing events for groups of up to 40 people.
We are a great venue for Calgary team building, birthday parties, or bachelor and bachelorette parties!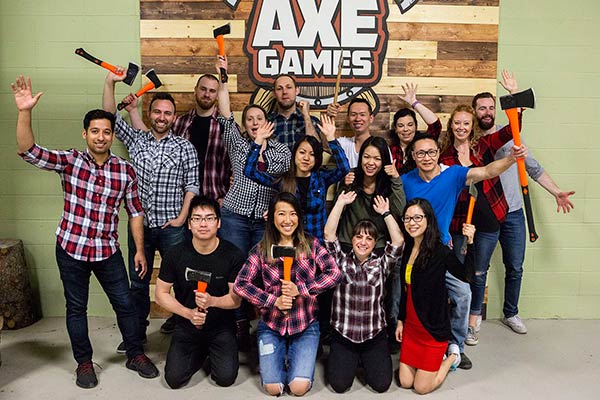 Please contact us by phone: 403-454-6878 or email: bookings@axegames.ca if you are looking to book for any of the event packages below. Axe Games events packages are available any day of the week*
*For bookings outside of our regular hours of operation: A minimum of 8 players is required to book and we recommend contacting us at least a week in advance so that we are able to staff and accommodate your booking.
If your group is smaller than 8 people: Please check-out our online booking page to see our regular hours of operations and available times for our small group 1 hour bookings.
2 Hour Tournament
(4 axe targets, Groups of 8+ people)
Book any day of the week (an 8 player minimum payment is required for bookings made outside of regular hours of operation)

2-hour private axe throwing tournament

Dedicated Axe Games coach for your group

Typical group tournament format: 30 minutes of warm-up & practice throwing, 45 minutes of seeding players, 45 minutes of final tournament to crown a champion!

Call to book outside of our regular hours of operation: 403-454-6878, or if you would like a catered food option, if during our hours of operation you can Book Online.
Full facility rental
(8 axe targets, up to 40 people)
Book any day of the week (subject to availability)

2-hour rental of all 8 axe targets

Private axe throwing tournament

2 dedicated Axe Games coaches for your group

+As low as $22.48/person (Up to $500 in savings)!

Looking for a catered event for your group? We offer everything from a light snack menu, to a pizza buffet, to a full plated buffet style dinner. Check out our 2019 Full facility rental package for options.

Call to book: 403-454-6878