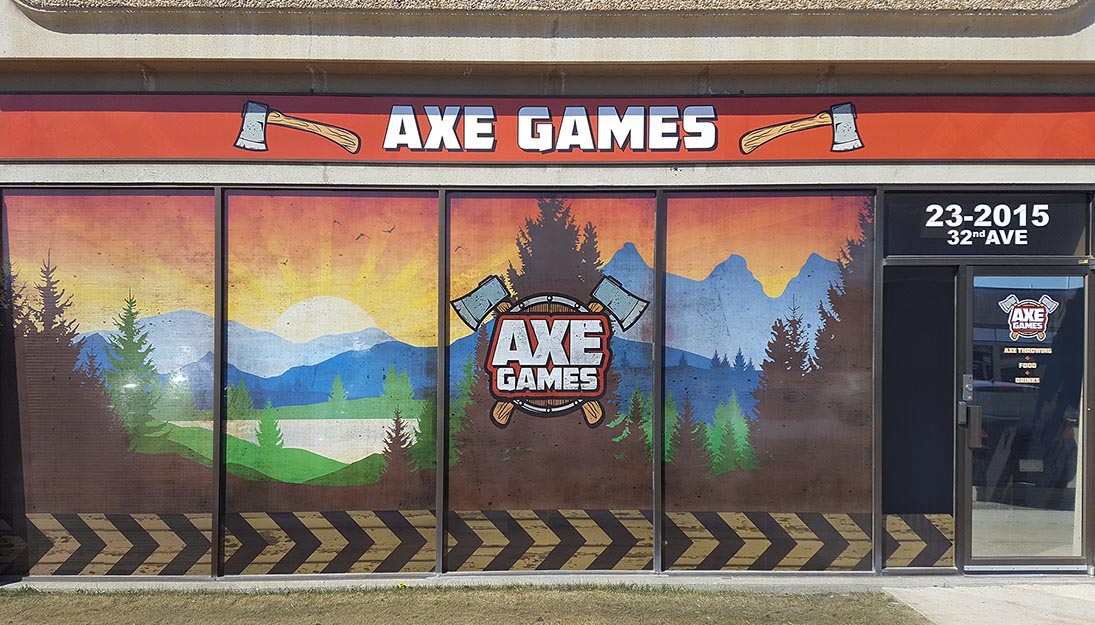 Axe Games Calgary
Axe Games Calgary is a casual, friendly and inviting environment where we host axe throwing events for anything from a casual night out with friends to large catered corporate functions. No experience is necessary as we will teach you how to throw and coach you along the way. Our staff are trained in the sport of axe throwing and will facilitate a structured tournament style scored match. Learn more about what a throwing match looks like at Axe Games Calgary: Axe throwing gameplay and scoring.
Come out and learn a new skill, challenge yourself, have some fun with friends and family, compete for bragging rights, enjoy a drink and some food. We would love to meet you and make memories together … or just get you some cool shots for your Instagram feed! Follow us on the: Axe Games instagram.
AXE THROWING LANE OPTIONS
1 HOUR AXE THROWING SESSION ($25/person)
Minimum 2 players.
Throw for an hour on one of our axe throwing lanes. These games are self-scored, but our staff will still cover the rules, scoring, axe safety, & axe training for all participants. Add a second hour for $15/person.
2-HOUR AXE THROWING TOURNAMENT($40/person)
OUR RECOMMENDED OPTION FOR GROUPS OF 8 OR MORE PEOPLE
You will have 2 hours of axe throwing and an Axe Games coach assigned to your group to organize all of the matches and axe tournament. The typical Axe Games booking runs as follows: 30 minutes of practice & training, 45 minutes of scoring your group, & we finish up with a 45 minutes axe throwing tournament based on the scoring in the previous round in order to crown a champion! Your group will be given a private area with 4 targets to throw on.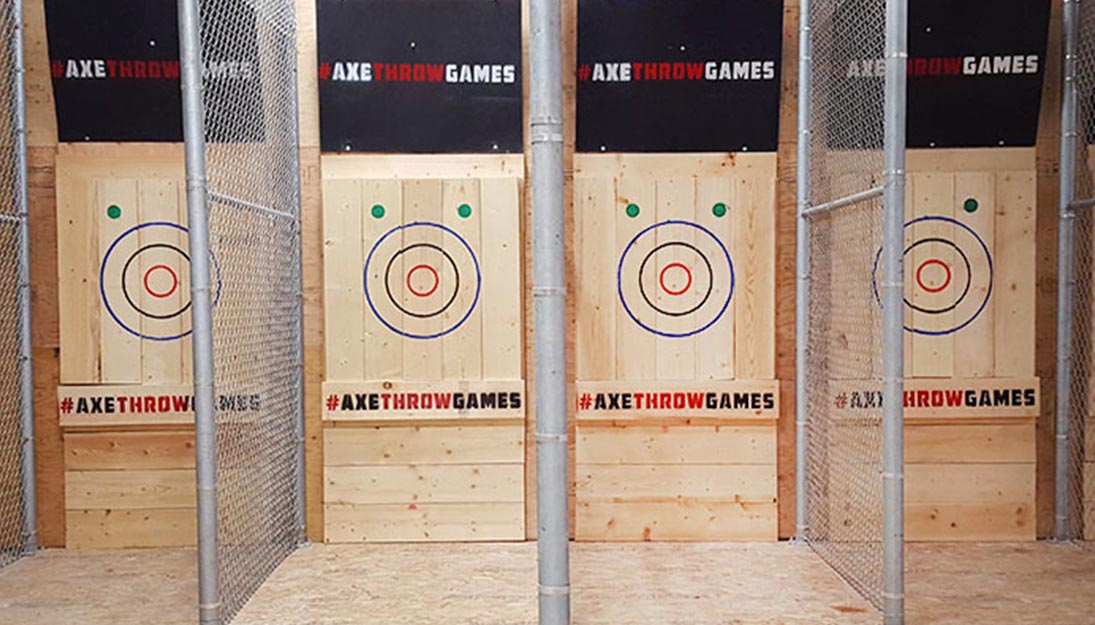 FOOD + DRINKS
Grab some food and drinks in our licensed lounge. Enjoy nachos, naan bread, dips, pop from Minhas, beers from Tool Shed and more!
WHAT IS AXE THROWING?
Axe throwing is a sport in which players throw axes (or sometimes hatchets, tomahawks, machetes, etc) at a target from a distance. The goal is to score as many points as possible, thus aiming at the centre (bulls eye) which holds the highest points value. There are many game variations depending on the facility hosting.
AXE GAMES:
GAME & SCORING
AXE GAMES:
RULES & SAFETY
WHO WE ARE
Axe Games Calgary was a long time dream of owners Kyle Fitzgerald and Edwin Tsui. The duo also runs and operates indoor amusement & recreational facilities: The Locked Room and Archery Games Calgary.
"We love to have fun and our businesses encompass that. We are proud to build upon our existing recreational facilities in order to create more fun for Calgarians with our new Axe throwing facility." – Kyle Fitzgerald.
Axe Games is located beside our partner facilities: Archery Games and The Locked Room Northeast. Ask us about our multi-event packages!